ENVIRONMENTAL AND SOCIAL RESPONSIBILITY (CSR)
SINCE THE ESTABLISHMENT IN 1981, IMPORTANT VALUES FOR BITTE KAI RAND HAVE BEEN TO BEHAVE AND ACT FAIRLY,
PROPERLY, AND RESPECTFULLY IN ALL ASPECTS OF OUR BUSINESS.
THIS IMPLIES THAT WE ARE CONSTANTLY TRYING TO IMPROVE OUR BEHAVIOUR AND ACTIONS, AS NEW KNOWLEDGE AND INSIGHTS EMERGE
IN RELATION TO OUR ENVIRONMENTAL FOOTPRINTS AND SOCIAL RESPONSIBILITY.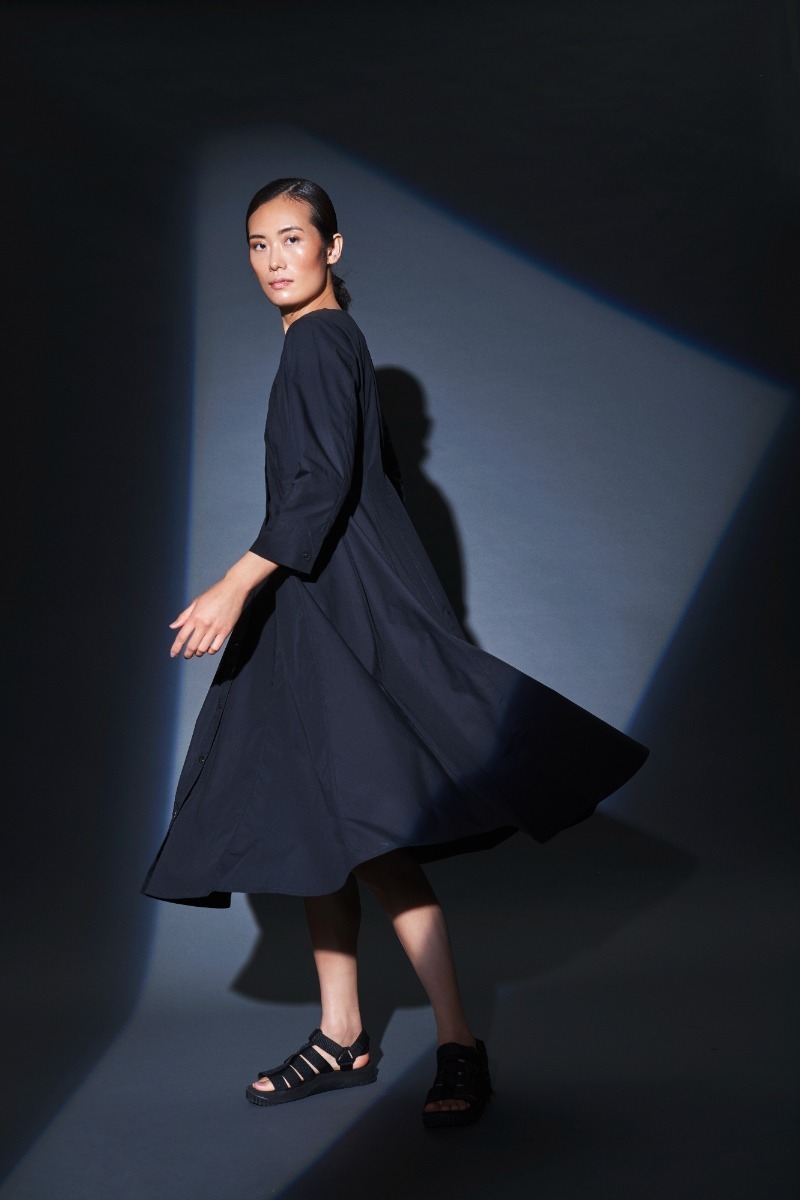 ENVIRONMENTAL RESPONSIBILITY
For us, the reduction of environmental footprints is a continuous process consisting of many steps. This process is deeply rooted in our brand's philosophy and guides our daily operations and processes. Several factors must be considered in our environmental responsibility: CO2 emissions, pesticides, water consumption, use of agricultural land, waste management, oceans, and marine environments, etc.
In 2021 BITTE KAI RAND got certified by Forest Stewardship Council (click here). The FSC® ensures that our viscose comes from certified wood, but also that the workers are provided with proper working conditions. The FSC® certification ensures an environmental and social responsibility within our entire supply chain.
Our environmental effort can be divided into four primary focus areas:
Long-lasting

Materials

Packaging

Transportation
1
LONG LASTING
The single most important factor determining the sustainability of a garment is how long it will last in use and how long the consumer will find the design attractive and relevant. This regards to design, material quality, workmanship, and the consumer's care of garment.
An important part of our DNA is to design and manufacture clothes that have a long life with our customers. One of our goals is to guide our customers on how to take care of their clothes and prolonging its lifetime. This is done by providing our customers with a thorough Wash & Care instruction.
If you are curious to know more about how you can make your clothes last longer, click here.
2
MATERIALS
To prolong our clothes' lifetime, it is important for us to use high-quality materials. All new materials are tested inhouse before being included in our collections. As a FSC® certified brand our goal is to only use FSC® viscose in year 2025.          
Our designers have a preferred list of fabrics leaving a lesser footprint like linen, FSC® viscose, TENCEL™ lyocell, organic cotton, and wool. Since our establishment, linen has been one of our favourite fabrics in our collections, because of its properties like longevity and comfort.
Our designers prefer to use digital prints, which use fewer chemicals and less water than rotary screen prints.
We use the balanced scores in the HIGG MSI index for environmental impacts of different types of fabrics.
We also use polyester, which is a fabric much discussed as it has a higher amount of waste. However, the positive effects are no use of pesticides, less water needed, no use of agricultural land required and a long lifespan. All together the footprint is smaller than for instance conventional cotton. Polyester is a strong fibre, which we use in blends for increasing the longevity of garment as in tight pants, we also use recycled polyester in our logo labels. The long-lasting effect that polyester contributes to, is the main reasons why we can include this as a sustainable material.
3
PACKAGING
All plastic bags in our stores and on our webshop are now made from recycled plastic. Historically, we used a lot of plastic for clothes packaging, plastic-hangers for hanging transportation of garments, large plastic bags for each garment, shopping bags in our shops etc.
We have stopped shipping and distributing garments on plastic hangers. By shifting from hanging garments to flat-packed garments, we have reduced the amount of the plastic used to one third today.
We have added reclose on our webshop bags, so you as a customer can reuse your bag when returning it back to BITTE KAI RAND's warehouse.
All paper articles, cardboard, hangtags, and packaging used in BITTE KAI RAND are FSC® certified.
4
TRANSPORTATION
Today we have converted 95% of our transportation to railway freight. Rail freight is the greenest way of freight as it has the lowest CO2 emission.
SOCIAL RESPONSIBILITY
Another aspect of our behaviour within sustainability is our social responsibility. By being FSC®-certified it is implied to ensure the woodworkers terms and work-related conditions.  
We put a great emphasis on the establishment and maintenance of long-lasting relations with our suppliers and we do our best to ensure fair and good working conditions for the employees. All suppliers are contractually committed to follow the Code of Conduct based on the 10 principles recommended by the UN Global Compact.
The 10 principles are:
1. Support and protect human rights within the company's area of influence
2. No violations of human rights
3. Freedom of organization and the right to collective bargaining
4. Support the eradication of all forms of forced labour
5. Support the abolition of child labour
6. Eliminate discrimination in work and employment
7. Support a precautionary approach to environmental challenges
8. Take initiatives to promote environmental responsibility
9. Encourage the development and spread of environmentally friendly technologies
10. Counteract all forms of corruption, including extortion and bribery
To support our environmental and social responsibility, we send un-sold collections to the Danish Red Cross. This is a way for us to prevent the clothes of getting burned, and at the same time to help people in need.  
 Our actions towards being more sustainable are both challenging and exciting and requires us to constantly keep up and improve ourselves. However, we believe that we are continuously taking steps towards a more sustainable behaviour.